29th April 2016 - Art, Music, Travel ... and a Fairytale Ending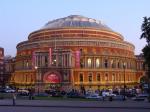 So readers, what else did I get up to in 2015 I hear you ask.
Well, I performed in more oratorio and concerts than ever before, I travelled to exotic Singapore with Scottish Opera and I was a performer in a Turner-Prize-nominated artwork. And to top it all I wrapped up the year with a very happy ending!
Read more / Comments...