28th May 2017 - A mother and a singer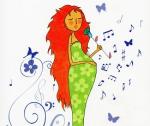 Hello again! In my last blog I promised to tell you a little bit about what it's like to sing whilst pregnant. I've been surprised by the number of people who've asked me how it feels. People are curious about breathing, support and posture, hormones and how they affect the voice, if and how the voice changes and how distracting it might be to sing with a little person kicking you from the inside.
Read more / Comments...
25th May 2017 - New York, New York
29th April 2016 - Art, Music, Travel ... and a Fairytale Ending
4th April 2016 - Welsh National Opera
19th May 2014 - Emerging Artist
10th September 2013 - Glasgow Calling
16th July 2013 - Big News!
19th June 2013 - May Mayhem
7th April 2013 - Welcome!