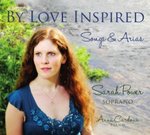 Hello again reader!
There's so much to tell you - I've just released a new album entitled By Love Inspired, I'm starting a new and exciting job in August and I've just completed the second instalment of last month's blog, May Mayhem.
Firstly, I want to thank all of the wonderful people who came to my album launch in the Mermaid Arts Centre, Bray, last Tuesday 9th July. There was a great turnout, the weather was amazing and the album looked fantastic thanks to some very hard work from Darby Carroll (Sound Engineer), Paul Waldron (All Write Media) Rob Cranley (Photos & Design) and Tony Monaghan (Design). I was especially delighted that Anna Cardona (my accompanist on the album) was able to fly in for the occasion. We gave a short recital as part of the launch and were thrilled with the reception we received.
By Love Inspired is available to download or buy in hard copy from my Web Store. Click here for further information.
My other big news is that from August 2013-14 I will be a Scottish Opera Emerging Artist. I haven't yet found out what I will be emerging from, but I'm sure it'll be exciting. I'll shortly be relocating to the city of Glasgow, host city to the 2014 Commonwealth Games.
I have many exciting roles to sing with Scottish Opera, the first being the title role of Rodelinda, with performances commencing in late September. Further details can be found on my Calendar, or click here for a link to Scottish Opera's website.
So, the future looks bright! And the recent past has been pretty eventful too. In the second half of May I sang my first Rossini Stabat Mater with the Wicklow Choral Society. It's a beautiful piece, especially the soprano/mezzo duet and the famous tenor aria Cujus animam (listen to Pavarotti's astonishing live version here … yes, it's live!!). The entire work demands agility but also power to carry over a large orchestra and choir. On this occasion I was very glad to be a soprano, as high notes carry more easily over an orchestra. The performance was a resounding success and I was very touched to receive a gorgeous basket of flowers from my childhood piano teacher who was in the audience.
It was also lovely to sing with the Revenue Choir in their summer concert in St. Werburgh's Church, Dublin. The concert was in aid of the very worthy Laura Lynn Foundation (http://www.lauralynn.ie), so it was especially gratifying to see such a large crowd in attendance. Members of the traditional Irish group Na Casaidigh performed a few Irish pieces on fiddle, viola and uilleann pipes and then joined us for a beautiful rendition of the song Thugamar féin an Samhradh linn. If you don't already know Na Casaidigh you should check them out on Youtube!
My summer performances culminated in a very special concert with the Concordia Singers in Sussex. As well as singing the soprano solo in John Rutter's Requiem I was also honoured to be part of the premiere performance of Ian Assersohn's Songs of Catallus. It was made all the more special by the fact that we were conducted by the composer himself. The performance was magical and it is a memory to be treasured!
There is so much more to look forward to this summer and beyond. In just a few weeks time I will have my new base in Glasgow and, no doubt, there will be many new and exciting stories to recount. Stay tuned!