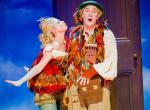 Hello readers!
You may be wondering what I was up to in 2015 that kept me so busy (and therefore so woeful at blogging). At last, here's an update about my activities in the first half of last year with another one covering the second half of the year to follow shortly.
In early 2015 I travelled to Cardiff to work for Welsh National Opera for the first time. I was covering (understudying) the role of Pamina in Mozart's The Magic Flute, a role I've performed a number of times before. Unfortunately I've never been asked to sing the same words twice; the first time I sang the role it was in German, the second time in German but with English dialogue, the third time in English with different English dialogue and on this fourth occasion we were singing it in a different English translation again. Murphy's Law!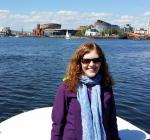 Once I'd managed to push all of the old words out of my head and replaced them with the new English translation I was able to relax and enjoy my time in Cardiff. The Wales Millennium Centre, where WNO is based, is a spectacular-looking building located in Cardiff Bay. The Doctor Who Experience is just down the road and in the summer time there is a funfair in Roald Dahl place, directly in front of the theatre. You can take a boat around the bay or walk beside the sea all the way to Penarth.
The people within the company are very friendly and there's a very positive atmosphere. As a cover I spent a lot of time in the darkened theatre observing the principals onstage. It's a fantastic theatre with a great acoustic. When we weren't observing the principals we had our own cover rehearsals in one of the enormous rehearsal rooms. Covers never really have much rehearsal time so we needed to be extremely observant and pick things up quickly.
Once we'd rehearsed for a few weeks we were allowed to go home and wait for a call. Covers really feel the pressure on show days. You need to have a bag packed and be ready to go at the drop of a hat. You should have looked over your music and the staging and have warmed up your voice in anticipation of going onstage. Until some time in the late afternoon you're still on call and you never know when you might be asked to hop on the next available plane or train and make your way to whatever UK city the show is in that night.
After a few weeks, the call came. Unfortunately the company was performing in Plymouth, the most difficult city for me to get to from Glasgow. It's an epic journey at the best of times but on this occasion we were seriously delayed. Despite the delay there was still a chance that I'd be asked to throw on a costume and wig and jump onstage the minute I arrived, so I had to try to warm up my voice on the train. I made my way out to the corridor and, standing beside the toilets, did my best to warm up my voice. Who says a singer's life isn't glamorous! Every now and then a person would come along and pass me with a curious and slightly disturbed expression. I suppose it's not usual to encounter someone whining like a puppy and siren-ing like a fire engine on your regular commute home.
Due to the delays I didn't make it to Plymouth until the curtain was rising on Act 2. The soprano playing Pamina had bravely gone on and, by all accounts, gave a good performance despite her vocal concerns. As a result I wasn't required to go on after all, which was somewhat disappointing and a little bit of a relief at the same time. I made my way to the hotel and, after a journey that had lasted more than nine hours, had an early night.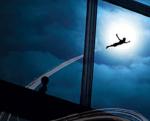 Later in the season I returned to Cardiff to cover the role of Michael in Richard Ayre's opera Peter Pan. This was the first time I'd ever had to portray a boy onstage. As a high soprano it's quite unusual for me not to play the heroine or damsel in distress. I got the chance to be quite boisterous and childish and enjoyed jumping off beds and out of windows.
All of this jumping around was hindered somewhat by a badly sprained ankle I'd picked up whilst running shortly before rehearsals started. The production team looked quite alarmed when I turned up for the first day of rehearsals on crutches. This was a very energetic role – I was playing a little boy after all – and I think they worried that I wouldn't be able to keep up. But after a week of caution I was back to normal (more or less) and was able to throw myself into the staging with gusto.
What a fun production it was! The main characters flew (although we never got the chance to try it out) and there was a giant children's train that travelled around the stage on large tracks and could be boarded. Singers popped up from behind giant toy blocks and the grandfather clock ended up on its side and transformed into a crocodile. Wonderful stuff and a joy to be involved in the show, despite not being required to go on in the end.