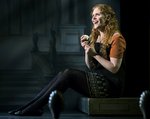 Dear readers,
Working for Scottish Opera as an Emerging Artist has turned out to be an incredibly busy but also immensely rewarding adventure. In my last blog I was preparing to go on tour in the title role of Handel's "Rodelinda" and, as the title character, I was feeling some extra pressure.
However, I needn't have worried. The cast and crew were wonderful to work with, the show was fantastic and the reviews were overwhelmingly positive for all concerned.
I have some great memories of the tour; the stunning ferry ride from Ullapool to Stornoway, the knitting club on the tour bus, performing with the unusual nyckelharpa (played by the talented violinist Gabi Maas) and Andy McTaggart playing the tambourine from side stage after his character had been killed off.
But my favourite memory is of the performance in which I ended up with a big red nose during the finale. My onstage husband (Andrew Radley) was covered in fake blood and every time I kissed him a little bit more of the make-up ended up on my nose. Poor Andrew kept trying to wipe it off for me but then I'd kiss him again and once again my nose would turn red. Obviously I couldn't see what was going on but the barely controlled laughter of my colleagues gave me a good idea. We sang the final chorus in shaky voices and there was more than one audible giggle from the performers and the audience.
Following Rodelinda we spent a week 'workshopping' a new opera, Anamchara, which we
will perform while the Commonwealth Games are on in July. During this time I had the opportunity to work with two sitar players from India in a semi-improvised style. What a contrast to Rodelinda! It was fascinating to work so closely with the composer on a contemporary piece and to have an input into its eventual shape. In July I will be joined by nine other soloists in what I am sure is going to be a groundbreaking world premiere.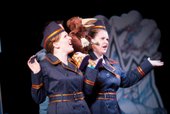 My Christmas project was an opera for children, Platypus in Boots. The kids seemed to love it. I had to sing in both a Glaswegian and an American accent and learn how to manipulate a number of puppets, including a Scottie Dog and Brussels Sprout. I also had to put my dancing shoes on. The great challenge with this show was finding the energy to perform early in the morning and twice a day. I had to take very good care of myself, going to bed early and avoiding alcohol. No mean feat during the festive month of December!
I was kept busy in the New Year with recitals and concerts, including an appearance as Catherine Glover (from La Jolie Fille de Perth) with the Scottish Opera Orchestra. We also started rehearsals for the Opera Highlights tour, a very demanding project: four singers and a pianist put on a two-hour show packed with opera favourites and lesser know operatic gems. It is almost more challenging than a conventional opera. The six-week tour also takes its toll, as you are on the move every two to three days to a new venue. Yet again I found that I had to take exceptionally good care of myself, often forgoing a post-show glass of wine for an early night.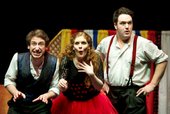 However, the benefits far outweighed the challenges. We toured to some of the most beautiful places in Scotland, including Mull, Skye, Orkney and Arran. I also got the chance to work with a fantastic group of professionals, who not only put on a gem of a show every night but were continuously upbeat and enthusiastic over the space of the six-week tour. I will never forget the hilarious bus games that kept us going on long road trips or the evenings of dart and pool tournaments. These are the magical moments that the audience doesn't get to see.
I'm now having a whale of a time playing Butterfly's cousin in Madama Butterfly. I even watched the movie Memoirs of a Geisha the other night to get into character! It makes a change for me to be playing a real bitch. It's quite fun actually. Performances of Butterfly will continue over the summer, as well as Emerging Artists recitals and, of course, the new opera Anamchara. All in all it looks like the summer will be just as jam-packed as the last few months.